Legends Run DMC, Rakim, Bone Thugs n Harmony & More Unite for Houston Boom Bash
Houston's Boom 92's Second Annual Boom Bash came to a monumental close this year as icons, Run DMC, and the god MC, Rakim, took to the mic once again for the love of Hip Hop. Boom Bash came to an equally monumental genesis as legendary femcee and radio personality, Monie Love took to the stage front-and-center kicking her rhymes as if the Nineties never left. Taking listeners back to 1989, Monie performed the hit feature, 'Buddy' along with plenty of others that got the crowd moving.
Following after Monie was another artist who served as one of Hip Hop's early pioneers. Philanthropist, emcee, voice talent, Ruff Neck enthusiast, and 2013 Icon Lifetime Achievement Award recipient, MC Lyte took to stage with a 'larger than life' entrance. The energy was definitely turned up a notch through her set which was a culmination of chart toppers including 'Cold Rock A Party'.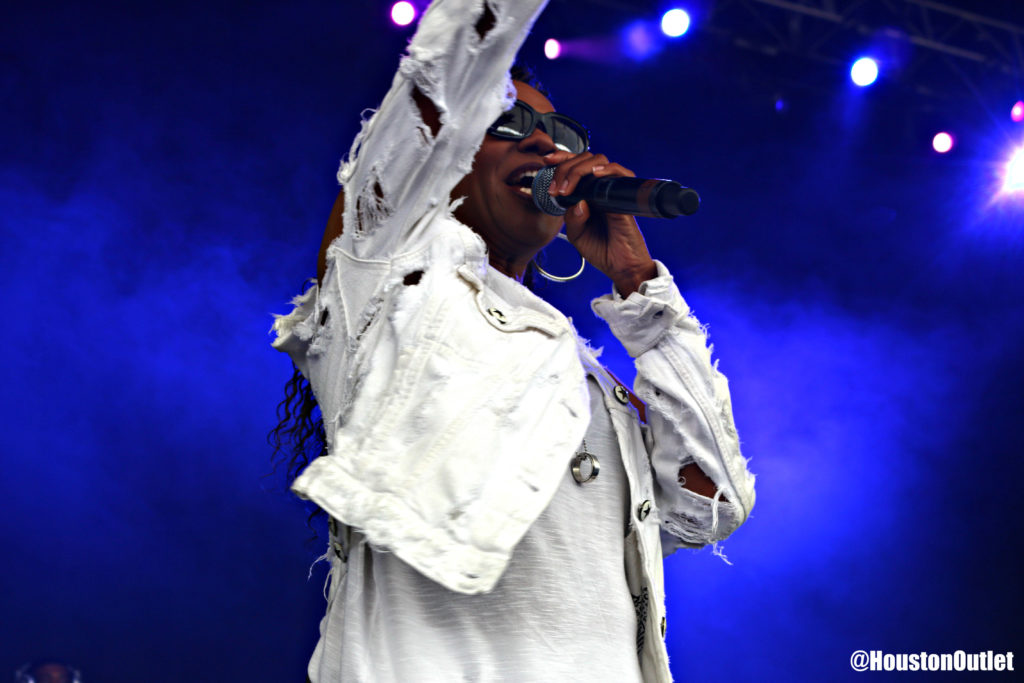 It is truly remarkable to see a show like this where Hip-Hop's pioneers still come out to rock a mic for the fans and for the music that held an era together. Songs like Bone Thugs', 'First of the Month', Run DMC's 'Sucker MC's', and MC Lyte's 'Paper Thin' were the soundtrack to a generation. What's even more remarkable is that Houston got to enjoy the occasion. But the music in the blood runs deep: One would see in the audience of Boom Bash not only folks in their 30's and 40's rocking out to Billboard hits like high school fan boys/girls, but festival goers in their teens mouthing the lyrics. It was evident to see the influence of an art form that breaks down both age and color barriers.
DJ Quik graced the stage, manning the DJ booth to spin a couple of his own songs. Houston fans got to hear his classic, 'Tonite', live in concert which really got the crowd swaying. The West Coast funk was large and in charge as the moving base lines, swanky synth piano keys, and Talkbox additions got everyone moving their feet and up out of their chairs.
Treach, Kay Gee, and Vin Rock of Naughty by Nature brought some raw, East Coast aggression to Boom Bash which made the whole pavilion feel a little more funky, thus Vin Rock's expression in this captured moment.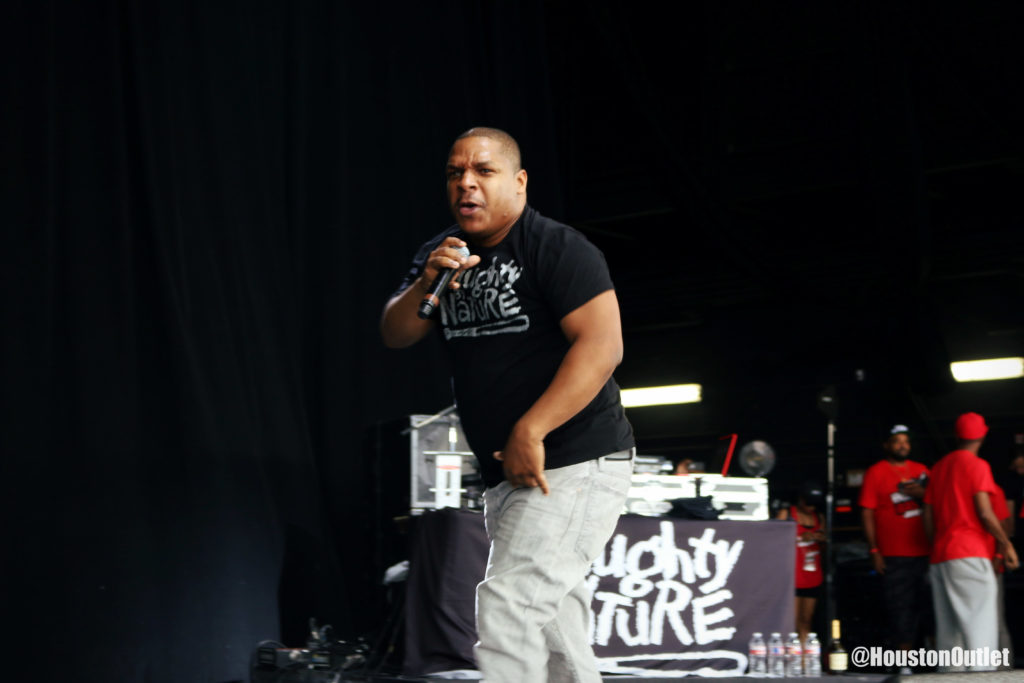 The group did their classics 'OPP' and 'Hip Hop Hooray'. Their energy pumped stage antics and slick wordplay delivery was a sight to behold.
Bone Thugs n Harmony's set was remarkable in that the group paid tribute to their fallen friends as well as rap icons, Notorious B.I.G, Eazy-E, and Tupac Shakur, each with whom the group had collaborated with for years. Bone Thugs performed 'Spit Your Game', 'For the Love of Money', and Tupac's 'California Love', each monumental tracks whom some may argue were game changers. In fact, It was in Houston, Texas that their classic track, 'Thuggish Ruggish Bone' first broke. Also honored in Bone's tribute were the late Afeni Shakur, Kimbo Slice and superstar, Prince. Of course, the peak of the performance was when the group dished out their 1997 Grammy Award winning song, 'Crossroads'. One thing that is great about Bone is that they exude authenticity both on stage and off. As they harmonized the lyrics of 'Crossroads' and fans sang along to the entire song, it became all the more evident that the words of the song are more than just words, but the background music to their life story.
Boom Bash was full of fun, food, drinks, and surprises this year with guest appearances by Bushwick Bill of the Geto Boys and Trae. Houston's renowned dance school, Break Free, had an appearance at Boom Bash. It was definitely cool to see kids still in grade school B-boying, doing headstands, and flying across the stage; a real testament to the hard work and determination of remarkable young dancers and their instructors. Ed Lover was a super charismatic host and a perfect match for the show. Jay Rio, the entire Boom crew and DJs kept the crowd laughing and grooving the whole day through, even through the lightning warnings and light rain. Next year's show can only be crazier. Until then, stay tuned.